Former Students of GRC Hurstville Boys Campus:
Sir John Arthur "Jack" Brabham
Jack Brabham was perhaps the most glamorous of the prominent alumni of Hurstville Boys. He won 14 Formula One Grand Prix races and three World Championships between 1955 to 1970. 
Jack attended Hurstville Boys (Hurstville Central Technical School, at the time) from 1938-1941. During this time, he was already able to drive. He would go on to both race, and own a racing car design company. He remains the only person ever to win a Formula One driving one of his own cars (in 1966). 
Arthur Gietzelt, AO
Arthur attended Hurstville Boys in the early 1930s. He would go on to become a member of the senate in 1988, having previously worked as Hawke's Minister for Veteran Affairs. Arthur would be given an Order of Australia (AO) for his achievement and service to Australia.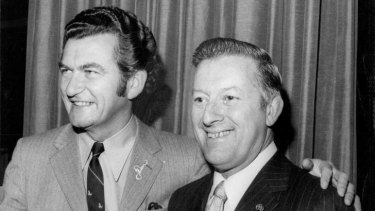 Archbishop Julian Leow Beng Kim
Julian was appointed Archbishop of the Archdiocese of Kuala Lumpur on July 3, 2014. 
Julian is an "old boy", having studied for his Higher School Certificate at Hurstville Boys in 1983.